I love technology that creates an outlet for your imagination. I am testing the Samsung Galaxy Note 4 to see if it can double up as a portable, digital sketchbook.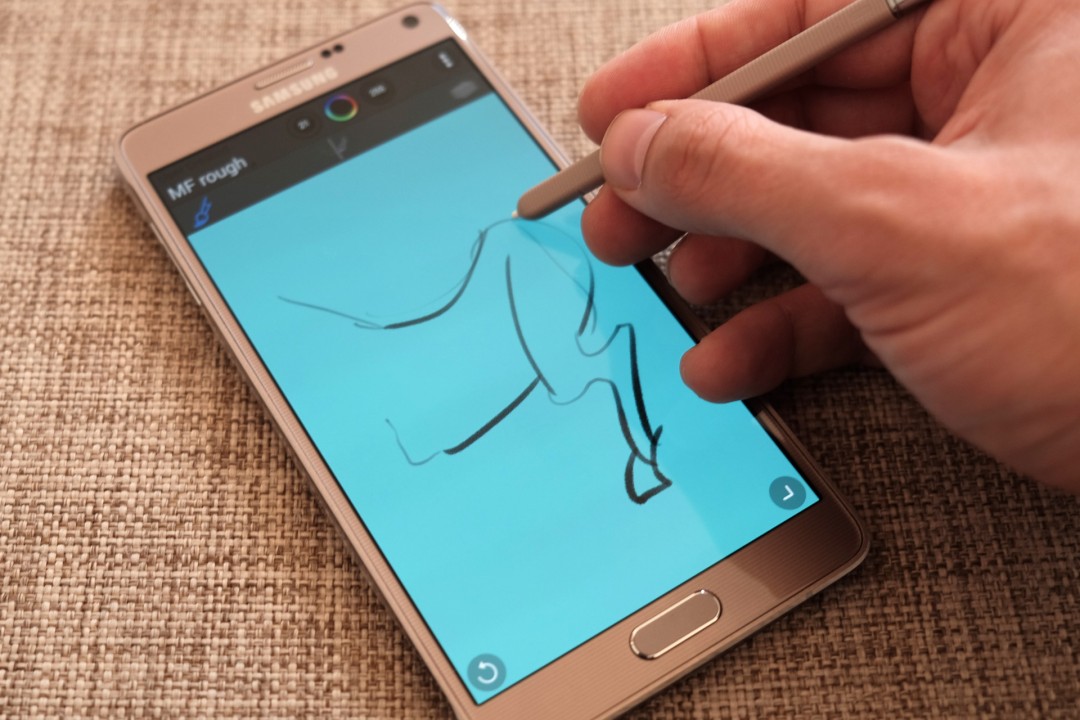 I've always been an early adopter of technology, and love finding new creative outlets. As part of my A Sketch Every Day 2015 project, I am testing new ways to digitally produce artwork and find new, smart and quick ways of drawing.
This is not an ordinary phone review – plenty of those exist already – but a review of the Note 4 as a portable digital sketchbook. The Note 4 has a (very) slim wacom-based stylus that lives inside a silo on the side of the device. I wanted to find out how the stylus worked as a drawing tool.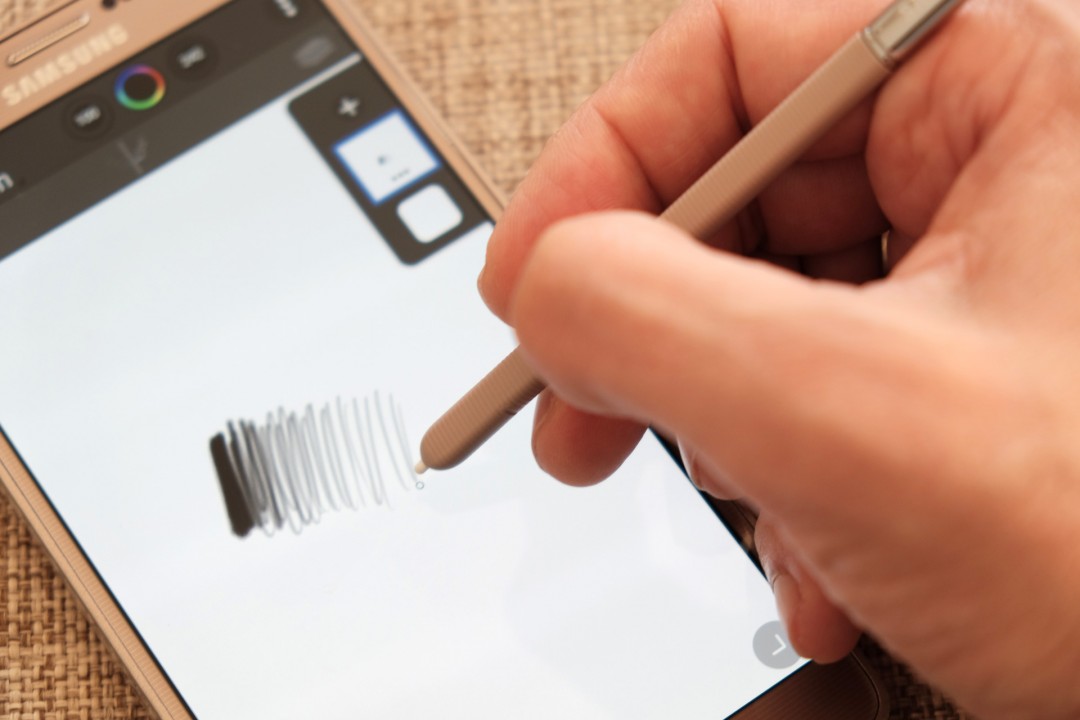 The stylus is what separates the Note 4 from other phones. It provides an accurate way of sensing touch and pressure, while being less protrusive than your finger. It is very narrow and takes a while getting used to, but it is very accurate and has a tiny button. It even senses tilt, though AFAIK only Artrage supports this as of now. It makes drawing, selecting and accurate tapping much more enjoyable. The screen is also very large and bright at 5.7″, and luckily you can dial down the rather garish default colour setting. Brightness is good, even outdoors. The screen has a 16:9 ratio which is slightly narrow in portrait mode, but the resolution is amazing.
Battery life is good but stylus use seems to drain the device a little quicker. With my use – a mix of reading, browsing, drawing, photographing and texting – the Note 4 usually lasts me all day with 20% left. The phone is also very slim, making it easily pocketable in my jeans. While being a big phone, it is still a small sketchbook. It definitely feels cramped compared to a tablet or regular sketchbook, but zooming and panning makes up for it somewhat. One minor niggle is the protruding home button, which is too easily pressed accidentally when in my pocket.
The drawing experience is both enhanced and hampered by the form factor of the phone. The stylus is very thin and not too easy to grip, but at the same time very accurate. I found that the most comfortable way to draw was when putting the phone flat on a table, or when supporting it in my lap on the sofa. On the subway I found it difficult to support my drawing hand, resulting in shaky lines. For rough sketches it works really well, but for considerate, slow strokes you need focus and some sort of steady support.
Android art software is still a mixed bag. Most software supports the stylus, but not all support the button or is customizable. I love having undo mapped to a stylus button, as I regularly make mistakes. All. The. Time. Having a quick undo is one of the greatest assets of a digital sketchbook. The Note 4 is a very speedy phone with 3GB of RAM and a lightning-fast processor. Some drawing software is still slow and prevents quick sketching, while some have cluttered interfaces that tries to do too much. I've tried Autodesk Sketchbook, Artflow, Clover Paint, Artrage (free from Samsungs own store!) and plenty others, but the one I found most comfortable to use was Corel Painter and Infinite Painter. They are probably based on the same software and support customizing the stylus and volume buttons, has a stylus only-input option to prevent accidental touch input and a quick, feature filled brush engine. They have layers, long-tap to colour pick and a great user interface. They're also quite buggy, requiring a restart now and then and sometimes won't draw tiny details. But overall they are fast, which is paramount when sketching.
Infinite Painter costs a bit more than Corel Painter, but have blending modes, perspective guides and more customizablity. It's a great app for the Note 4.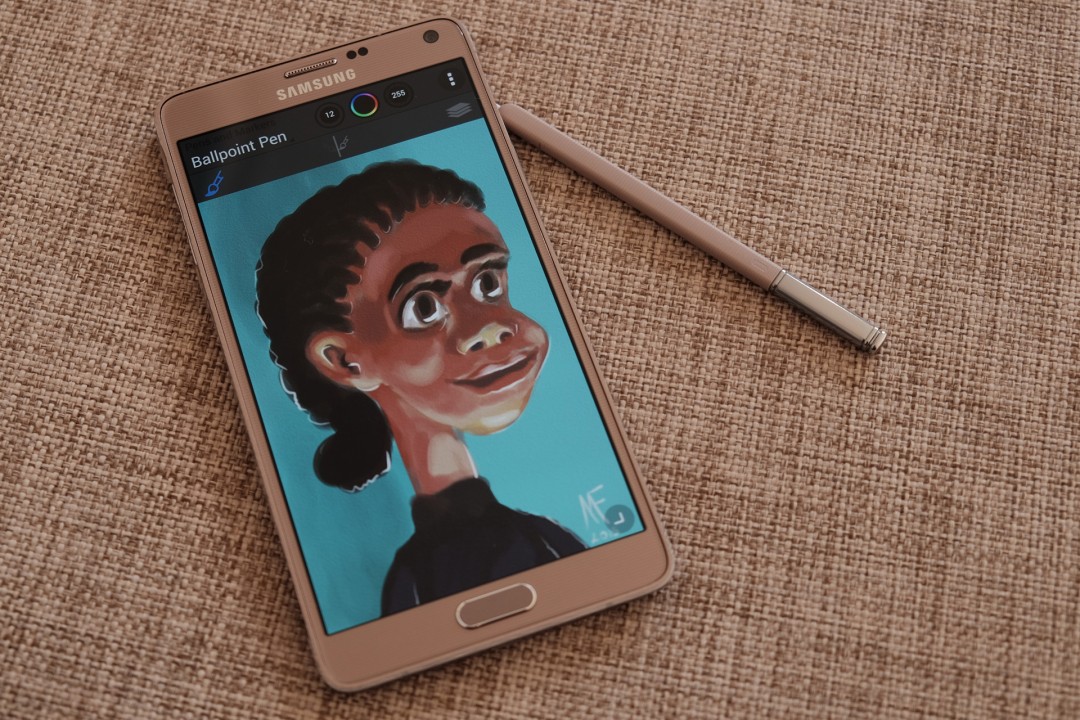 The large screen is also wonderful when browsing and watching videos. Multitasking is pretty quick, so if you need reference materials when drawing you can do it all on your Note 4. The camera is also wonderful. It has optical image stabilization and takes great quality photos and video. I also love that you can have a microSD card installed so your drawings and documents don't have to fill up the internal memory.
Conclusion
The Note 4 is a very interesting tool for any visual artist. It is a great phone as well as a very usable sketchbook platform. For many, I would believe this could be a great alternative to the iPad or other tablets. It is not a Cintiq and lacks the more powerful tools of the desktop world, but as far as phones go – the Samsung Note 4 would be the artist's choice.
Cons
– Android software still a mixed bag
– Very thin and small stylus
– Home button is too easily pressed
Pros
+ Excellent stylus accuracy and sensitivity
+ Great screen and fast, responsive hardware
+ Some good software makes it easy to sketch and paint good quality work
+ A great digital sketchbook in your pocket!
Sketches done with the Samsung Note 4